Middle managers are often the linchpins of an organization, relaying messages and communicating goals between executives and employees. It's a difficult job, and opportunities for professional development are too often aimed at those in the top or bottom rungs.
Given these demands on middle managers, learning and development (L&D) programs that meet their specific needs are more necessary than ever.
In this post, we'll discuss the current climate for L&D aimed at middle management. And we'll explore what business leaders should look for in programs to educate and energize these crucial staff members.
Expanding Demands on Middle Management
Companies must adapt continuously to evolving markets, economic trends, and breakthroughs in technology. Mid-level managers are increasingly expected not only to implement initiatives from C-suite executives—but to direct transformational change themselves.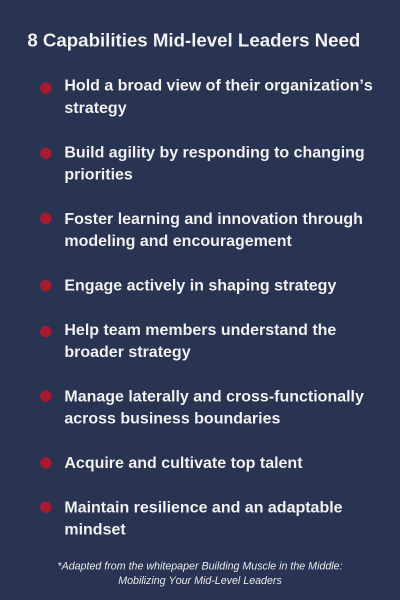 Company leaders believe programs that help mid-level managers develop the skills to excel in this role are essential both for driving results and building a senior leadership pipeline.
In fact, a Harvard Business Publishing (HBP) survey found that 57 percent of professionals surveyed felt that development for middle management is either a high or very high priority in their organizations.
Researchers draw on this research and related studies in Build Muscle in the Middle: Mobilizing your Mid-level Leaders, an HBP whitepaper.
Commenting on their pivotal role in "building a culture of continuous learning," the article calls mid-level leaders "the connective glue that makes strategy work—facilitating high levels of communication, collaboration, and coordination … up, down, and across organizational levels and geographic boundaries."
However, research has also shown that many in-house and online L&D programs leave room for improvement.
L&D Programs Fall Short
The State of Leadership Development Report by HBP Corporate Learning suggests that despite good intentions, many organizations' L&D initiatives are falling short. These initiatives included internally developed programs and e-learning platforms.
According to the report, leaders say these programs don't lead to better outcomes for the business. And they fail to help managers build the skills necessary to excel in their roles.
One key result reveals that learning techniques used in these programs are not keeping pace with learners' expectations and needs. Eighty percent of respondents said that learning techniques need to be more innovative, a 5 percent increase since 2016.
Just 52 percent of respondents said their organization's programs were relevant to current business challenges.
Some of the strongest criticism of current L&D programs came from millennials. They represent a growing percentage of managers responsible for leading transformation at all company levels.
To a greater degree than their older colleagues, millennials identified poor content, insufficient thinking from outside sources, and a failure to make a compelling ROI case as problems in existing leadership programs.
Much of the frustration can be traced to evolving attitudes about what constitutes best practice in program design and delivery.
Proven Practices
Choosing the right leadership training for your organization is a matter of thinking strategically about what your organization needs. Additionally, consider your managers' learning style and try to find a program that checks both boxes.
Leaders thinking proactively about ways to improve L&D results might consider the following:
Experiential learning that is applied to immediate, current challenges is effective.
Programs should be learner-driven, and presented in formats that support a variety of learning preferences.
Effective programs are ones that build community by offering learners opportunities to work together and establish relationships across geographic and operational boundaries.
Involving senior leadership in middle managers' development connects learning to strategy, builds participant accountability, and bolsters learner commitment.
Programs should be designed to show business impact. Projects should give learners the chance to share quantitative results, insights, or outcomes that demonstrate ROI.
Already skilled in managing across organizational levels, mid-level leaders are well-positioned to influence attitudes and drive innovation.
Armed with an understanding of practices proven to engage participants in learning that yields real-world results, managers can help reinvent leadership development to better serve them, their teams, and their organizations in an era when continuous transformation has become the new business norm.
Explore Professional Development Programs at Harvard Extension
In our Professional Development Programs, we utilize best practices to support leadership development. You'll learn with other managers and leaders from around the globe, explore real-world cases and engage in break-out group discussions and activities to test your new knowledge.
Find new ways to frame and solve problems, and become a trusted leader in your organization. To view our rigorous intensives on Leadership and Management, browse our programs.