Overview, 3-Day Mastery Session
People are the key to the success—or failure—of any organizational transformation. 
Designing an innovative business strategy and the change initiative required to implement it is an important first step in staying competitive in today's marketplace. Successfully leading an organization through that change initiative, however, involves developing trust, building enthusiasm, and overcoming resistance. In other words, you must be able to motivate, inspire, and lead people through the change process.
This intensive three-day mastery session focuses on the central theme of getting stakeholders ready, willing, and able to make change happen. You will learn how to build powerful coalitions, promote buy-in, and create sustained engagement. You will discover techniques for identifying and overcoming both passive and active resistance. And you will develop actionable strategies to inspire trust and innovation across all levels of your organization.
Who Should Register for this 3-Day Program?
Strategies for Leading Successful Change Initiatives: Mastery Session will be of special interest to leaders who are looking for an immersive program grounded in enhanced tools, tips, and techniques for launching, leading, and realizing value from change initiatives.
This program is relevant for leaders who are interested in driving change in their organizations, regardless of industry. Product managers, program managers, team leads, senior managers, directors, vice presidents, and executives all will benefit. Teams who are planning or engaged in a change initiative are encouraged to attend together; explore our group discount policy for more information.
There is no prerequisite for enrollment in this program. However, leaders who are new to managing change initiatives or are seeking a more general discussion of change management may be interested in the two-day session, Strategies for Leading Successful Change Initiatives. 
Upon successful completion of this program, all participants will earn a Certificate of Participation from the Harvard Division of Continuing Education.
Benefits of Strategies for Leading Successful Change Initiatives: Mastery Session 3-Day Program
This intensive program is designed to help you build and master the interpersonal and leadership skills required to successfully lead individuals, teams, and organizations through complex change initiatives.
In this three-day course, you will learn actionable strategies that you can use immediately to develop purposeful leadership for driving innovation and change. You will:
Discover how to successfully launch, lead, and realize value from change initiatives

How to transition from the idea phase to the implementation phase

Learn to leverage strategic and tactical insights to create an action plan that jumpstarts your next change initiative

Develop tools to identify, manage, and overcome resistance

Create effective strategies for qualifying, managing, and mitigating risk

Master techniques for building higher performing teams

Envision your operational strategy for building momentum through the "Innovation S Curve", and for sustaining enthusiasm and innovation for the long term
Curriculum
This mastery session is anchored by a series of detailed case studies and innovative learning sprints. It is anchored by the philosophy that the most effective professional development has one foot in the library and one foot in the street.
During this intensive three-day program, you will:
Engage, collaborate, and innovate in sessions designed for practical learning

Participate in lightning sessions that break down complex processes into digestible and actionable sections

Delve into valuable case studies as learning tools to inspire debate

Share and listen to "awesome advice," a popular activity where participants with a diversity of perspectives contribute their own best practices for inspiring innovation
Costs
Strategies for Leading Successful Change Initiatives: Mastery Session is a three-day course held in Harvard Professional Development's state-of-the-art classroom at 1 Brattle Square, Cambridge: in the heart of historic Harvard Square. Program tuition is $3,995 plus the cost of travel.
August Schedule
Day 1
• Resistance Management
• Risk Management
Day 2
• Trust Prescription for Innovation and Change
• Cultivating Higher Performing Project Teams
Day 3
• Where Are You on Innovation S Curve
• Operationalizing Strategy
*Schedule is subject to change.
Instructor
David is a recognized authority on innovation, managing change initiatives, strategic planning, and gaining competitive advantage. He serves as a lecturer at Harvard Extension School. Previously, he spent 20 years at the Harvard T.H. Chan School of Public Health, where he served as associate dean.
Certificates of Leadership Excellence
The Certificates of Leadership Excellence (CLE) are designed for leaders with the desire to enhance their business acumen, challenge current thinking, and expand their leadership skills.
This program is one of several CLE qualifying programs. Register today and get started earning your certificate.
Learn More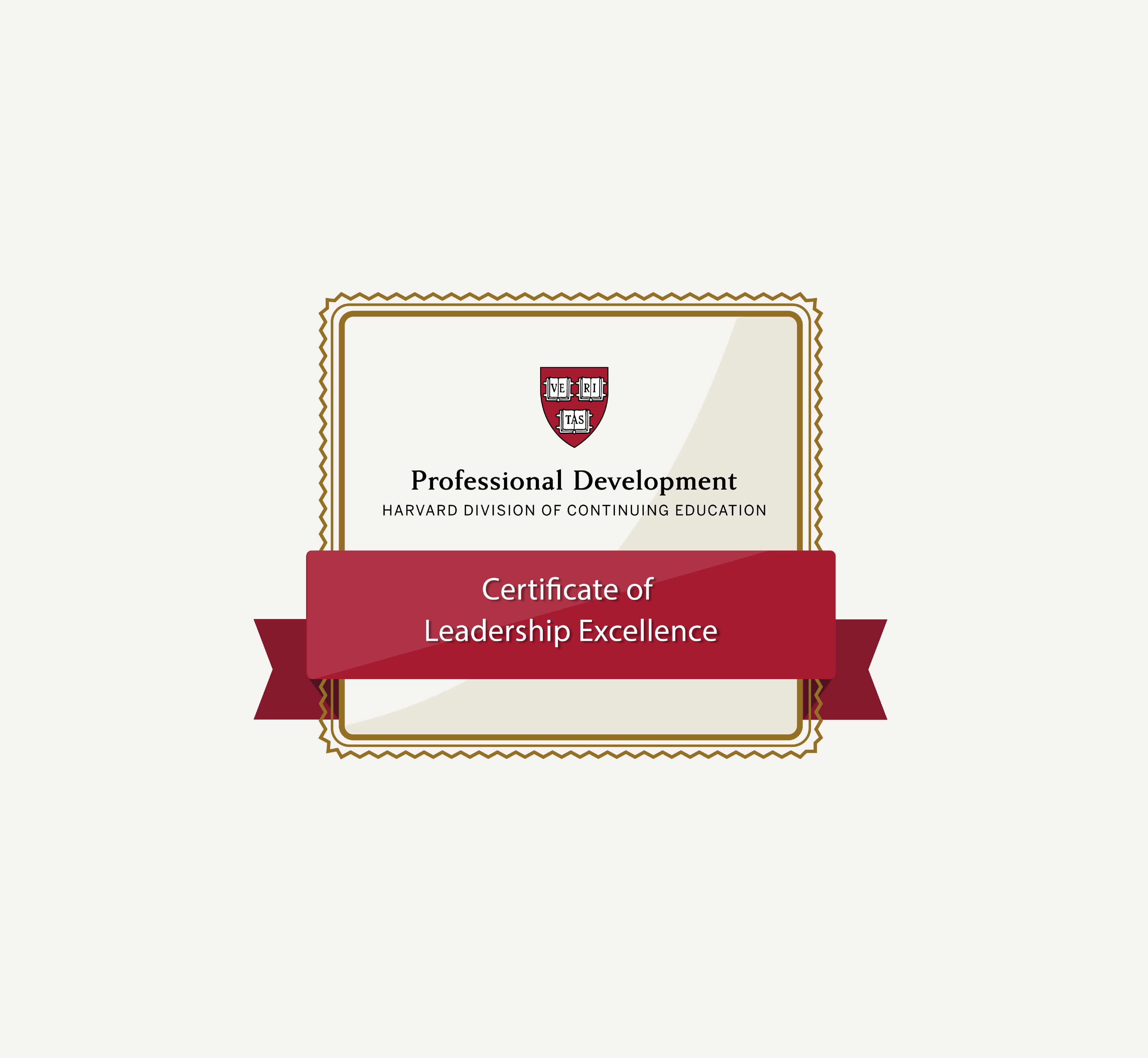 FAQs
What type of results can an organization expect to see, when change initiatives are implemented correctly?
In today's rapidly-evolving business environment, organizations must adapt and change to stay competitive. An organization that has the ability to successfully change its business strategy as its environment and market evolve are more likely to survive and even thrive.
Leaders who can overcome resistance to change, build a culture of trust and innovation, and motivate their teams to innovate will find it easier to implement a change initiative successfully and are more likely to realize the full potential of their business strategy.
How will this 3-day program help me advance in my career?
During this three-day program, you will learn critical leadership skills to lead change successfully, increasing your organizational value and making you more competitive on the job market. According to instructor David A. Shore, "Ninety-three percent of senior human resource directors indicate they will hire people based on their ability to manage ambiguity and change."
What skills or experience is needed before enrolling in this program?
You do not need any specific skills or experience before enrolling in this program. It is designed for anyone interested in learning how to successfully facilitate change initiatives in their organization.