Sean Hauze
Director, Instructional Technology Services, San Diego State University
San Diego, California
Programs: Innovation and Strategy, Agile Leadership: Transforming Mindsets and Capabilities in Your Organization
I've taken two out of the four programs I need to complete the certificate: Innovation and Strategy online with Areen [Shahbari] and Agile Leadership: Transforming Mindsets and Capabilities in Your Organization with David [McIntosh] on campus in Cambridge. To finish the certificate, I'll be taking Behavioral Decision Making and Building Organizational Cultures.
My goal in selecting the Certificate of Leadership Excellence was to try to find new ways to address the challenges we are facing relative to the COVID-19 pandemic and its after effects.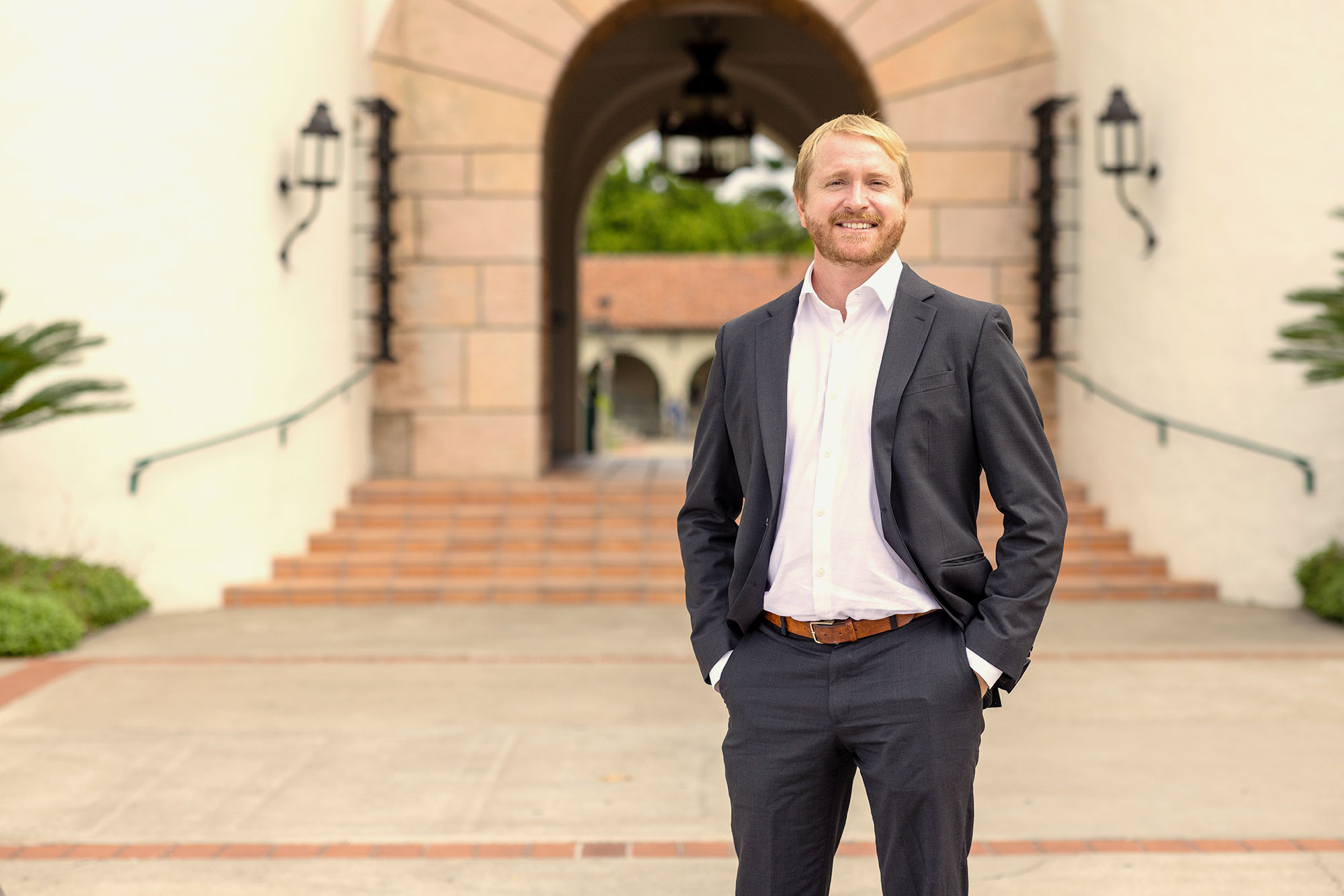 In higher education generally, and particularly in my role as director of instructional technology, we've had to work really hard and thoughtfully to ensure that students continue to have a meaningful, engaging experience, whether they are online or on campus.
Many of the trends we're seeing now—greater reliance on instructional technology, greater demand from faculty, and students' higher expectations in terms of flexibility and engagement—started before the pandemic. The pandemic accelerated all these trends when, seemingly overnight, faculty who were resistant to teaching online were suddenly unable to come into the classroom. Everything flipped on its head, which really required a lot of innovation, agile decision making, and strategy.
The pandemic was an accelerator, not just a moment in time. We now have a shared expectation that we can engage meaningfully over Zoom and through other online platforms. However, this shift has raised the bar for what it means to have meaningful face-to-face learning. Now that we are back on campus and in person, the demand for innovative academic technologies has really increased.
The Harvard Professional Development Programs I've chosen focused specifically on the areas where I feel we need to improve to succeed in this period of rapid change. My goal has been to learn strategies for meeting today's challenges, and maybe even leverage this time of change in a beneficial way.
Areen's Innovation and Strategy program has been especially relevant in helping me think about how my institution—and the higher education community more generally—should further innovate to stay relevant in the world of MOOCs (massive online open courses), short-term certificate programs, and the decline in demand for a traditional liberal arts degree. We need to be able to offer a meaningful, engaging experience underpinned by the social connections that drive the traditional college education.
What were some of the benefits and key takeaways from these programs?
One of the real "aha" moments for me from Areen's program was the importance of hiring a workforce with a diversity of perspectives. Of course, this is something that I already knew intrinsically, but it was really helpful to have it spelled out so explicitly. In fact, I selected these programs because of their diversity of perspective.
First, the perspective was global. I really enjoyed having discussions with people from Singapore, Australia, Switzerland, Nigeria, from all over the world. Second, there was a diversity of industry perspectives. Of course there were some representatives from the tech field and academics, like myself. But there were also participants from government, NGOs, consulting, and business, just to name a few. I found that wide range of insight into the topics very helpful.
There were also relevant takeaways from the curriculum itself.
I really enjoyed learning about the S-curve of innovation, for example (a method of visualizing the rate of productivity and change over time). There's an inflection point when you're still on the upswing of change—when progress is still positive: that's when it's time to innovate again. If you miss that inflection point, you risk plateauing and then nosediving. I found that relevant both from an organizational standpoint, but also from an individual standpoint, as a leader. When each team member feels that they're meeting the challenges of the day, that's the time to invest in more professional development. I can't wait for them to plateau, because I risk allowing them to become complacent, irrelevant, or unengaged.
This idea was actually my final project in Innovation and Strategy. I applied the S-curve of innovation—and the need for successive S-curves—to management philosophy and to the idea that leaders must continually invest in their team and in oneself. That takeaway reinforced the importance of participating in this program. I am well-educated, but I can't simply rely on what I learned back in 2018 when I did my dissertation. Instead, I also need to continue to build those personal successive S-curves.
My primary takeaway from Agile Leadership was that the old "command and control" leadership style is not only less effective today, it's literally physically impossible. Today's workplaces are both physically distributed and organizationally distributed. When you are working from home, your supervisor literally cannot (and should not) come and check in on you every five minutes.
We need to embrace a more agile way to empower individuals, through smaller teams and shorter deadlines. We all know instinctively that we can't return to the status quo. However, David used data to demonstrate how an agile structure is more beneficial in many ways. It's more efficient. It's more productive. And it's more likely to increase job satisfaction for team members.
So my takeaway is that not only is it better; it's really the only way forward.
These takeaways have been immediately applicable for me. Certainly, strategic planning has always been part of my role, but I've been able to shape the discussions differently, thanks to these two programs. And I've made a few substantial changes already, such as implementing daily stand-up meetings with the senior leadership team. I've been making the argument for more professional development funding based on the data-driven success of the S-curve model.
Overall, these programs have been so beneficial. As a leader managing several teams, I have to make so many decisions on a daily basis. These programs have provided proven methodologies for making sound decisions, which is so much easier and more effective than having to weigh the pros and cons of each decision independently.
In David's program, we also talked about ways to measure success as a leader. He offered ways to gauge a team's engagement: does your team feel like you, as a leader, will complicate things or set up barriers, or do they feel that you're going to empower them, remove barriers, and make things easier? Do my team members ask for my assistance or are they concerned that I will suppress their ideas? Asking these types of questions has really helped me think about my role as a leader and how I can improve in that respect.
What were the most rewarding and the most challenging aspects of the programs?
I think the biggest challenge for me was not related to the content of the programs. The real challenge was making the commitment to take the time to fully participate in the programs. But pausing—setting aside the time to be fully engaged and present—was well worth it.
The most rewarding part of both programs was the personal connections with the participants and the instructors. The participants were very diverse, as I noted, and the cohorts and breakout groups were small and accessible. The instructors created very practical ways for us, as participants, to apply and engage with the program curriculum.
Did the programs offer networking opportunities?
The online program and on campus programs both offered rich opportunities for networking, but in very different ways. I'm very glad I had the opportunity to experience both!
It was great to be able to interact with the other participants in person, during the program itself of course, but also during breaks and going out to dinner.
Because the online program was longer—over the course of a month—there were more opportunities to meet and work with participants outside of the scheduled program times. The longer program also offered me the opportunity to do more deep reflection over the key takeaways.
Do you have any advice for other participants looking to get the most out of their program?
Be open to networking and collaborating with other professionals who may not seem to be related to your field because, often, their insights will be your biggest "aha" moments. Learning from people with different perspectives is many times where you derive the most insight on how to solve problems and proactively innovate at your own institution.
Describe your experience thus far at Harvard Professional Development Programs in one word.
Transformational.