James Fletcher
Managing Director, Alta Pete Consulting
Canberra, Australia
Certificate of Leadership Excellence in Strategy and Innovation for Senior Leaders
Programs to complete the Certificate: Building Organizational Cultures: A Framework for Leaders, Strategic Sales Management, Advanced Negotiation Skills, Disruptive Innovation: Leveraging Multi-Sided Platforms
---
---
How did you choose these particular programs?
All of the content in the four programs is directly relevant to what I do. The business that I run—Alta Pete Consulting—is a leadership development consulting company here in Canberra [Australia]. Much of the work we do is in the organizational culture space. So Building Organizational Cultures, for example, was directly relevant.
Generally speaking, I wanted programs that met the needs of our clients and helped our business, but also that I am interested in on a personal level.
For example, we're trying to do more outside of Australia. We do a lot of work here in Canberra with both the government and the private sector, but we're looking to expand into North America and the UK, and in fact, other places around the world too. I wanted programs that would complement that kind of business plan.
Negotiation, on the other hand, is a topic that's very popular with many of our clients. So Advanced Negotiation Skills both helped me in my client work but, as a former senior executive attorney for the Australian government, it met a personal interest as well.
Why did you choose to complete the Certificate of Leadership Excellence?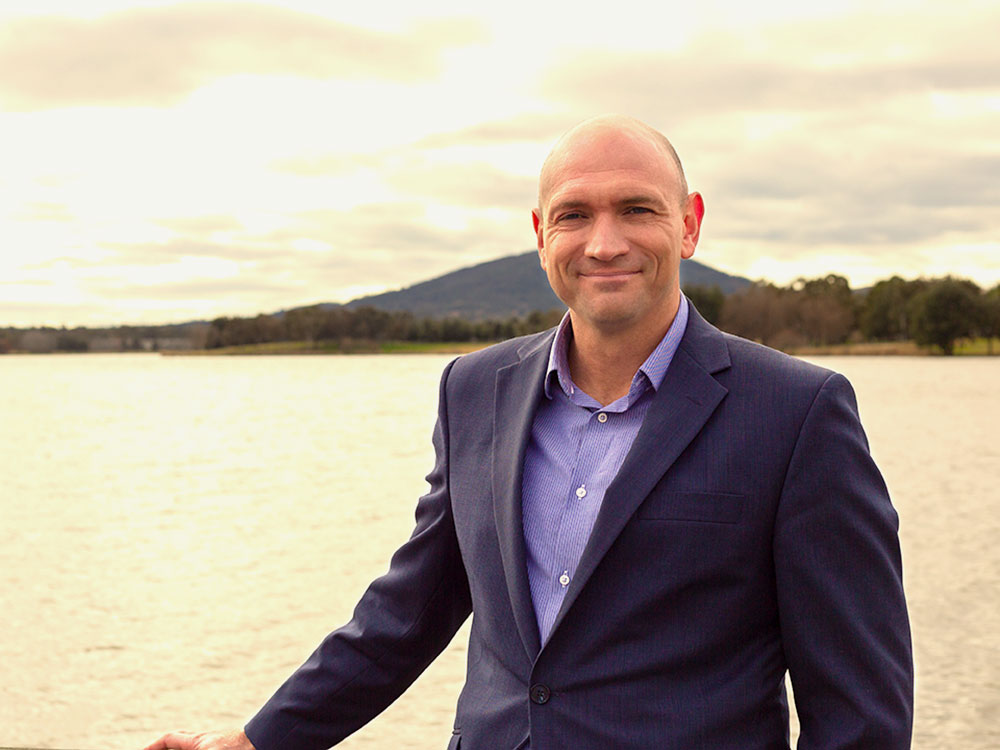 I'm really excited to be the second person—and the first Australian—to earn the Certificate of Leadership Excellence in Strategy and Innovation for Senior Leaders.
Micro-credentialing—like this type of certificate—is a great way to gain access to leading edge knowledge and information. Given how quickly the world is changing, you really do need a way to stay ahead. While more formal and lengthy qualification processes are important, you may find that your knowledge has been superseded by the time you complete the full qualification process. I think that's why these types of micro-credentials are so important for today's professionals.
I was also intrigued by this specific certificate process because it was oriented for leaders with at least 10 years of leadership experience and framed as building on existing skills. That's exactly what it delivered.
For example, in Advanced Negotiation Skills, there was an assumption that you had some foundational knowledge of negotiation frameworks and that this was a master class. And the other participants really did fit the required profile. Some participants were working as lawyers but there were also senior executives negotiating some pretty complex transactions. All the participants brought in real-world examples that added a whole new dimension to the discussions.
Thinking about all four programs, what takeaways do you feel have made the most impact in what you do on a day-to-day basis?
The honest answer is that there were many big takeaways, so I'll go through each program briefly.
Building Organizational Cultures
Lorne [Rubis] started the program with a Zulu greeting: I'm here to see you and I'm here to be seen. And that really resonated—it had such an impact on me. Lorne's IcE10 framework—and in particular the power of connection and belonging—was quite impactful; we do a lot of work in that space, especially in the context of today's hybrid work environment. The need for psychological safety also really resonated. In fact, we could see those concepts play out as Lorne built the culture within the program cohort.
Strategic Sales Management
The thing that struck me about this program was the fact that there was a lot of focus on emotional intelligence. I wasn't expecting that angle, but again, emotional intelligence is a real passion for me.
I found the Ikigai framework really useful. It's a Japanese concept, similar to a Venn diagram: your Ikigai is the intersection between what the world needs, what you're good at, what you get paid for, and what you love doing. We spent a lot of time in reflection and awareness-building around why you are doing what you're doing, before you even get to sales.
And a new concept for me was the process of selecting your ideal customer, from a more senior perspective.
Advanced Negotiation Skills
The master negotiator framework that Dr. Kogan took us through was really powerful. We also talked about the need to negotiate mindfully, professionally, and purposefully. Dr. Kogan told us, "today, more than ever, negotiations have consequences." Those words really struck me. We talked about some of the things going on in the world right now that made Dr. Kogan's words really applicable.
Disruptive Innovation: Leveraging Multi Sided Platforms
The disruptive innovation program focused on skills for designing and launching disruptive multi sided platforms, as well as related ideas like the network effect and disinter-mediation. There was a powerful case study that took us through it. And for me, that was a bonus because I'm not really an IT expert—I was worried that I might not have the necessary IT background. However, the concepts were explained in such a way that didn't matter.
All of the instructors brought real world experience to their program. They are published authors and in some cases have literally written a book on the topic. Ted [Ladd] has very much walked in the shoes of an entrepreneur using those skills and done it very successfully.
I'm still thinking about how to use the takeaways from this program in my career. But I think it's an important way to think about innovation. How do we change things up in a constructive way?
What was the most challenging aspect of these programs?
Participating online from Australia—the time difference—was challenging, of course.
It took planning and organization. My family was very supportive, and we tried to set things up in such a way that it didn't cause any disruption at home. And my coffee machine got a pretty good workout during that time.
The greatest challenge, however, was in some of the role-playing exercises. They really took me out of my comfort zone. It was challenging in that sense that you're thinking, "Do I actually have something I can offer here?" It's easy to let the negative self-talk kick in. But I quickly noticed that the other participants responded really favorably and the activities facilitated a lot of learning. Sharing my own experiences and listening to others' experiences was a real highlight of all the programs.
What were some of the major highlights of the programs?
The program facilitation was excellent. Use of breakout rooms and meeting chat, for instance, was highly effective. The facilitation was very successful at bringing people into the conversations. I noticed, in fact, that the facilitators would come back to people who had particular knowledge in particular areas. And of course participants could raise their hands and ask questions.
But the real highlight was how engaged all the participants were, and how much that engagement augmented the learnings. All the programs were very, very interactive and engaging. The Harvard team really worked hard to keep everyone engaged through the programs. And I think that everyone got more out of them as a result.
Did the programs offer any opportunities for networking?
I would argue that the networking opportunities were actually another huge highlight of the programs for me. Hearing from people across different industries was fascinating. A lot of the "gold" in terms of learnings came from hearing what people are doing in places like Microsoft and Slack, for example.
I especially enjoyed building very genuine connections with other participants from all over the world. The interactive nature of the programs—and how we were encouraged to share our own experiences—really helped build those connections.
And the programs really were truly international. Obviously there were many people from North America and the UK. But I also met people from Finland, Saudi Arabia, South Africa, Thailand, Singapore—I mean, truly all over the world.
As my business looks to expand into different jurisdictions and into an increasingly connected world, it was fascinating to hear about how certain scenarios might play out in Southeast Asian culture, for instance. This is especially true during negotiation skills training, where there often is a cultural lens impacting the negotiation.
It was also really, really interesting to hear how people around the world are handling challenges we all are facing, like COVID, for example, or organizing work in a post-COVID world. Of course, there are always cultural factors to think about, but also just the way we're all different. We all have a different approach. We all have different life experiences.
So I would say that the network I've developed through these programs was probably one of the most rewarding parts of the entire experience.
Do you have any advice for future participants?
I would encourage potential participants to think creatively about what you think you need to get out of the program. Challenge yourself a bit. Seek out programs that will help you grow and take your business or your career to that next level.
Even before you start the program, set your intention. Define your objectives in advance. What's your goal? What do you want to get from the program? The pre-readings are, of course, valuable by themselves. But you can also use that time to think about what you really want to get from the program.
Keep good notes! Obviously, you'll cover a lot of valuable material that you'll want to remember and apply once the program is over. But you may also find you want to remember some of the miscellaneous things that come up in discussions. Book suggestions are a great example. My audible list is completely full now because of all the books and ideas that people are throwing around.
Like anything in life, you get back what you put in. For some people that might mean speaking up when you're not sure if you should speak up. But for some it might actually mean tuning down the amount you are speaking in order to listen to others.
And make the effort to keep in touch with those you've connected with. It's great to chat during the program, but you've got to keep that momentum going. If you can do that, you'll get a lot out of it.
I think the only other thing I would add is that it's so worth the investment. And I'm not just talking about the financial investment, but the investment of your time. It's absolutely worth it.
If you could describe your Harvard Professional Development experience in one word, what would that word be?
Transformational.
The one takeaway I got from all the programs is that it's not just about knowledge. It's about changing the way you think about things. To quote Marcel Proust, "The real journey of discovery is not seeing new lands, it's seeing with new eyes." That's what I mean by transformational.